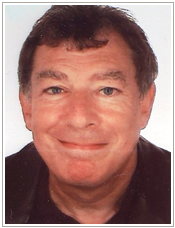 About Norman
Born in 1947 in Hackney. Went to school in the East End and then to Teacher Training College in Norwich. Left college in 1967 and went to work at The British Museum where he stayed for the next 37 years until taking early retirement in 2004.

His first book was published in 1969. Called GAAM, it was a book of poems co-written with Herbert Tyler.

Norman became well-known as a writer on local, family and sports history from the 1970s onwards. His first book on local history, Clacton in Camera, was published in 1984.

He has now had a total of 27 books published.CONTINUE READING →
New Release
Cracked Eggs & Chicken Soup
In this revealing memoir of childhood, the author shows not only what affected his family, but also reveals a large slice of social history concerning the lives of all ordinary working-class people struggling to live in the slums of the East End of London in those pre-Welfare State days.
He writes with sympathy, and sometimes anger, of the overcrowded houses with families of anything up to eight children, as his own had, living in just two or three rooms with outside W.C. and water tap; of the reliance on charity and the soup kitchen for food; of trying to eke out what little income they had by buying stale bread and cracked eggs or other cheap food from the many itinerant street sellers and the shops and stalls in Petticoat Lane.
Yet this is also a chronicle of what was a turbulent time in British history, and especially in the East End, with its then still large Jewish population. So here too is an eyewitness account of the Depression, and of the provocative marches by Sir Oswald Mosley's British Union of Fascists through the area, culminating in the Battle of Cable Street that saw the marchers turned back by the efforts of Jewish, Irish, communist and socialist protestors.
Above all, however, Norman Jacobs writes with affection of the area and its extraordinary mix of peoples, as well as the now-vanished aspects of everyday life, such as the music hall, the two-valve radio, street entertainers and the first Cup Final to be played at Wembley.
READ MORE >>
ORDER ON AMAZON >>